Messages
Chairman's Message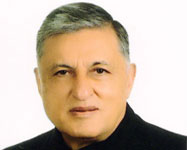 MV International School started its odyssey in 2004 and has come a long way. We aim to impart quality education which shall mold the young minds and transform students into good citizen of the country. MVIS is providing ample opportunities to every student to bring about all round growth and self-realization. 100% results and regular selection of the students in various prestigious colleges speaks volumes about the team efforts of the students and staff along with full cooperation of the parents. There are many more milestones ahead, which the school is marching towards and shall definitely reach the zenith in coming years. I take this opportunity to congratulate the staff and the students for their commendable efforts in bringing the school to this level of excellence. I am equally grateful to the parents for their patronage and belief in us.
My Best Wishes to all those who are directly or indirectly associated with the progress of MV International School.
Sh. Hira Lal Abrol
Chairman : MV International School
Vice Chairperson's Message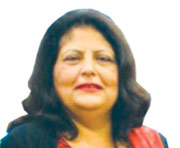 "Each day of our life we make deposits in the memory banks of our children."
Role of parents in their child's education has long been recognised as a significant factor and usually the children of more active parents who participate in the school activities, perform much better than those who ignore school visits. I am glad that the parents of our children at MV International School support us in all initiatives.
Our dedicated teachers and staff reinforce the same values that the parents hold dear to help students reach their full potential. We are delighted to continuing to provide a safe, welcoming school environment in which each child will flourish.
Mrs Savita Abrol
Vice Chairperson : MV International School
Director's Message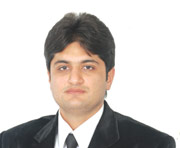 "Schooling doesn't merely mean educating the child; the broader objective is the holistic growth of its pupils."
MVIS aims at guiding the students through a system that is beyond pure academic development. The main focus is inculcation of attributes that lead the child to unfold naturally into a well-balanced individual who will effectively meet the challenges of the world.
The management and staff are striving hard to make MV International School a landmark in the field of quality education.
Heartiest greetings and best wishes to all faculty, students and their parents.
Mr. Gourav Abrol (MBA, BEd.)
Director : MV International School
Director's Message (Prep Wing)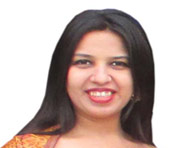 "Focus on the journey, not the destination. Joy is found not in finishing an activity, but in doing it."
Children develop rapidly during the first five years of their life; physically, intellectually, emotionally and socially. All of them should be given an opportunity to experience the very best possible start to their education during this 'Foundation Stage of Learning'.
MV International Prep School curriculum is carefully planned and structured in which the child grows and learns in a natural way. We strive to keep our toddlers busy with learning activities.
I take this opportunity to thank the parents of our students for having bestowed their faith and confidence in us. Your faith in us is our driving force.
Mrs. Aakriti Abrol (BSc, BEd.)
(Prep Wing) Director : MV International School
Principal 's Message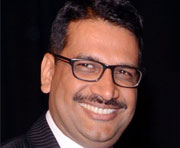 MV International School nurtures students from diverse backgrounds and helps them to discover their capabilities, find missions and work to achieve success in all spheres of life.
By training them through cutting edge technology in state of art infrastructure, we try to prepare our students to face the world. With combined efforts of management, parents, staff, students and community members, I am confident that MVIS will continue to learn, grow and achieve.
Hope this website provides a vibrant platform for updation of our events & achievements to all our stakeholders.
Mr. Kundan Lal Dogra (MSc, BEd.)
Principal : MV International School