About The Chairman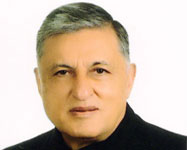 Sh. Hira Lal Abrol, has spent his entire time serving the local community, working deeply on issues that always affect the deprived in any society. He is well known for hard work, honesty and his empathy for the neglected sections of the society. He is also a reputed businessman and an active member of Chamber of Commerce and Industries at Jammu. He is currently the Chairman of MV International School, Vijaypur (Samba); Chairman of Mahavir Society of Education & Research (Regd.) and Chairman of Healthy India Stronger India. Under his leadership MV International school has become one of the leading C.B.S.E schools in Jammu region catering to quality education from Kindergarten to Class XII. The institution is taking serious steps to fulfil its social obligations towards the underprivileged & deserving students by facilitating them with: Scholarships, Financial Aids & Free Books and Uniforms. He invariably carries a large vision to serve all segments of the society at the grass-root level.
As Chairman of MV International School, Vijaypur, he strives hard as a leader to create a conducive, tension-free environment in the organization. He considers it his responsibility for catering "real" education to the pupils of the locality. As Chairman of Mahavir Society of Education and Research, Jammu and Healthy India Stronger India he works with a missionary zeal to address the difficulties of the affected people with sole aim to attain greater sustainability on the issues of health care as well as to create educational opportunities for the deprived young. Healthy India Stronger India is an NGO established for charity and it provides free skills training to the under privileged children. He promotes every person's right to education and healthy living, through these organizations.
Owing to his passion for education 38 students of MV International School visited the Parliament of India on 07 Dec 2016 and 39 students of Healthy India Stronger India visited this biggest house of democracy on 02 January 2018 during their free educational 'Delhi Darshan Trip'.
Sh. Hira Lal Abrol has been honoured with 'Mahatma Gandhi Sewa Medal' by Gandhi Global Family (New-Delhi) at Jammu on 25th September 2013 for his outstanding service to impoverished segments of the society. It is a rare, life time achievement which definitely puts him in the bench of recognition with eminent people like His Holiness Dalai Lama and Speaker of Lok Sabha Smt. Mira Kumar. The award conferred upon him truly recognizes the spirit of the person and his philanthropy. On 23 February 2018 he received "Best NGO – Raising star of India Award" for excellence in Social Service from Sh. Valmiki Prasad Singh, former Governor of Sikkim & Director of World Bank New York and Padam Bhushan Dr.Bindeshwar Pathak, founder of Sulabh International during the Green Ambassador Summitheld at New Delhi.
Thus, following his father's footsteps, he is carrying forward the mission of social service to further heights. The school ever since has been gaining strength year after year. Presently, under the guidance of young, dynamic and energetic Director, Mr. Gourav Abrol, the school is taking new strides to compete in all fields with the best schools in the region. He stresses on an 'express mission' of making available quality education well within the means of the masses.